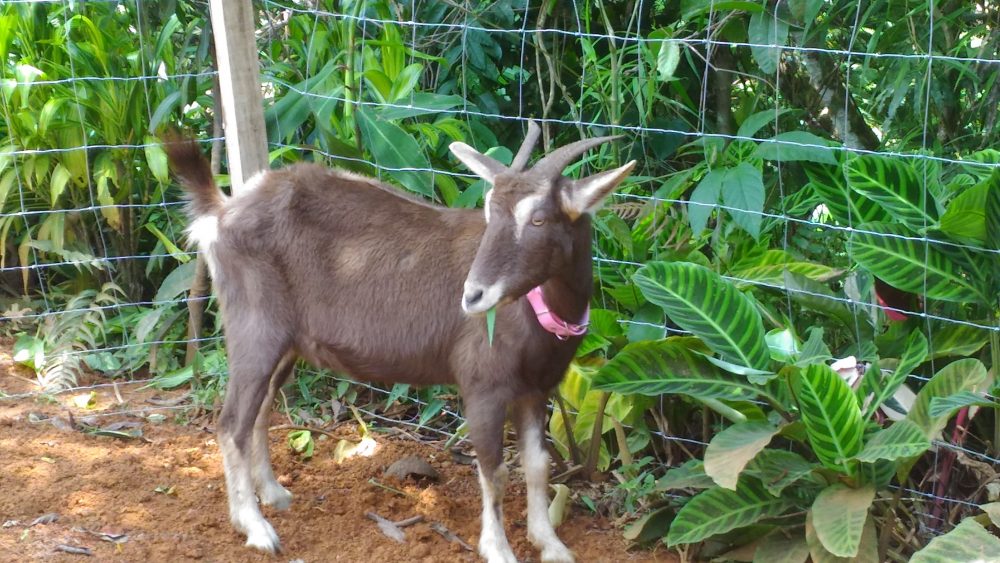 How to get your goat pregnant in Costa Rica
It is more difficult, and expensive, to knock up a goat than you would think.
There are interesting perks and challenges implicit in attempting to farm in the jungle. I have been learning everything I can about how to take care of our animals online, but the problem with that is that the vast majority of the information available is written in North America. Everything is just so different here: the climate, the food that is available, the building materials, etc. Add to this the fact that, in rural Costa Rica, animals are meant for food – they are not in any way pets, which means that people care for them very differently. Which brings me back to the subject of how to get your goat pregnant.
We now have two goats, which we have purchased from two neighbours, a one-year-old Saanen (I think), named Luna and a one-and-a-half-year-old Toggenburg (I assume) named Cleo. As you may have guessed, I have no idea what I am doing. When we purchased Cleo, I made it clear that we were looking for a dairy goat. I was told that she had never been pregnant, and that her mother is a great milker. So good so far. He then told me that you don't need a male goat in order to get them pregnant, that you can just get in contact with a vet in the city and that they will sell you goat semen and presto! You've got babies. Purchasing goat sperm had really never occurred to me, but ok, I'm open to possibilities. So being the naïve gringa that I am, I went to the city, spoke with the one English-speaking vet that I have encountered in my shopping expeditions, and told him what I was looking for. He then gave me the name and number of another English-speaking vet who might be able to help me (and probably burst into hysterical laughter after I left the store). I called the other vet and he explained it all to me, and let me tell you, it is a procedure. It is every bit as complicated as when humans use artificial insemination, with testing and hormones doses, a lot of money changing hands, and a huge chance that it won't take. For some reason, this hadn't occurred to me. I thought that it would be a good idea to have the vet come to our place anyway to check the animals out. He said that he would email or call so we could set up an appointment. I never heard from him again.
So, two weeks later, I speak again with the neighbor we bought the goat from. Who now tells me that he has a friend in the next village who has a couple male studs and that he might be able to arrange something for my girl. This is what I have learned from living in this country: everybody 'knows a guy,' whether you are looking for a plumber, or a studly goat, someone near you will know a guy who can hook you up. You won't find it in the Yellow Pages, you won't find it on Google. You have to go talk with the kind of people who know a guy. That's just the way it is.
Five days after that, I go to the organic market in the next town and am shopping. I am greeted by my neighbor who tells me that the goat guy is here and she will introduce me. We talk. His name is Jesus. He tells me that I can bring my doe to his place and that we will see how it goes. When I ask him to write down his address, he asks me when I will be done at the market. Um, ten minutes? Then I should follow him to his house, as it's very close and easier to see by walking there than by writing directions.
Seems legit.
So I follow him there, and he is right and we make arrangements for me to bring the goat over the following weekend as I am currently treating her for parasites and need a few more days.
Which brings us to today, when we loaded my big heavy goat into the back of my car (not a truck mind you, a Mitsubishi Outlander) by bribing her with bananas, and drove her up our long dirt road to the next village for her to meet a man. Who she proceeded to beat the heck out of. We shall see.
Have a goat that you're trying to get pregnant in Costa Rica? Look me up – I know a guy.
Until then, Be Amazing.
Alexis