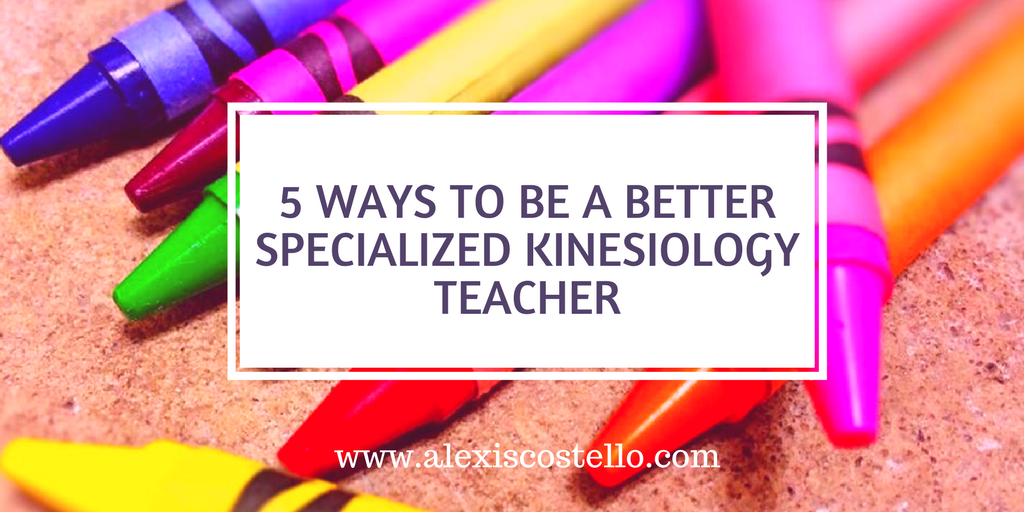 5 Ways to be a Good SK Teacher
I am happiest when teaching a Specialized Kinesiology class. (Don't tell my husband!)
Any of them. All of them. Touch For Health, GEMS (Goal, Element, Mode Stack), SIPS (Stress Indicator Point System), TFH Instructor Training Workshops – I don't care, they are all ridiculously fun to teach in their own ways. In the last year I have been given the responsibility to train instructors for various classes. While helping guide new instructors and assessing those teaching for their ability to progress to other levels, I find myself asking, what makes a good Specialized Kinesiology teacher? While there are many resources and guides for how to be a good teacher in general, I feel like our weird little industry requires a different skill set – yes all the rules for other teachers, but then a few special bits as well. Here are a few of my meandering thoughts, and I hope they are helpful.
Don't make kinesthetic learners hate you. Many of us end up in this field because we are hands on people. While I love to read books and listen to good instructors, I don't really get it until I have someone on the table that I can practice on. I need to feel it in my hands, and I think a lot of my students are the same way. Try to make sure that students get a chance to practice at least twice a day. Do demos so they can watch you go through it step by step. Encourage them to play along from their seats: point locating, finger moding, muscle locating, range of motion, whatever, as you go. This little bit of movement will help them lock in the material. Refresher activities like muscle dances or running through meridians can help with this too.
Own your space. It takes a lot of energy to keep the attention of any group of people. However, it takes a crazy amount of energy to wrangle kinesiology people, who are used to burning with the intensity of a thousand suns. What you are projecting is going to be amplified through all the people in the room because we are all used to picking up on energy cues a little more than your average Joe, so if you are feeling nervous, or don't really believe in the material, or are listless in your delivery, your group is going to be restless, skeptical and might just talk over you. I'm sure that I occasionally (OK, often) look immature when teaching a class because I move around and bounce and flail, but those are ways of producing and transmitting energy. The tone of the class comes from you. Own your space, fill it with excitement and love and everything will go more smoothly.
Be a good practitioner. They say that "those who can, do. Those who can't, teach". This is not (or should not) be true in our field. Especially in higher level classes, most of the people there are attending because they really want to work on people, not necessarily for their own growth and healing. So most of the questions they have are about the practical applications of the material; how to integrate it with what they already know, or how this works in a real session. We tend to remember stories more than facts, so I can explain to you why this works and you might remember some of it, but if I can tell you a story of how that worked for one of my clients with real life challenges, that has a greater emotional impact and sticks better in your brain. But you need to believe that it is true for this to work, so make sure you are actively working on people as much as you can! Which leads to my next point…
Be honest. Remember that thing I said before about how we are all pretty energy sensitive? Why would you try to BS people who you know basically function as stress-detectors for a living? And yet I see instructors do it, usually to avoid the discomfort of admitting that they don't know the answer to a question. It's OK to say you don't know when someone asks you something tricky. It's also OK to think it out in front of them, and make a reasonable guess, though I try to make sure that they understand when I do this that this is me making an attempt to figure it out, but that I am not sure. It's OK to open it up to the floor and let others who might have more experience with the topic at hand answer. It's also OK to say, 'that's outside the scope of this class' if it's something that will lead you down a rabbit hole. I had a question come up in one of my last SIPS classes that I hadn't gotten before. I said I didn't know, but that it would make sense to me that ____, but I would have to look it up to know for sure. Less than a minute later someone had Googled it and confirmed to the class that what I had guessed was correct! Don't try to snow students with smart phones!
Be as organized as possible. This goes to the time before the class when you are preparing, but it is still part of being an effective teacher. Do you respond to your students' calls and emails? Do they know ahead of time where they are supposed to be, how to get there, what they need, and what to expect? Yes, we are all busy and it isn't always easy to make time for this. But if I feel there is a lack of communication or organization before the class, I find it hard to believe the instructor is going to be well organized and communicate well during the class itself. There needs to be a balance between being well-prepared and being able to go with the flow and deal with any crisis as they arise. Your students will understand if something goes wrong last minute – these things happen – but they won't forgive you if you don't answer their questions before class.
Of course there are more, but this seems like a good place to start. As I type this, I am sitting on an airplane (drinking a ceaser since I'm back in Canada). Last month I taught two back to back SIPS 3 & 4 classes. A week from now, I will fly to Kansas City to present and teach GEMS at the Touch for Health Conference and then teach 2 more SIPS classes in Virginia. As this is such a joy for me, I hope to get better and better at it. After all, the work is important – if I can't convey the information properly then my students can't use it which means less balance, health and wellness in the world. Whereas, if I can do my job properly, each of those students will leave class ready to rock and change the lives of everyone around them for the better.
Which is why we're all here!
What do you think? Any favourite teaching tricks or instructors pet peeves to share? Leave them in the comments below!
Be Amazing!
Alexis