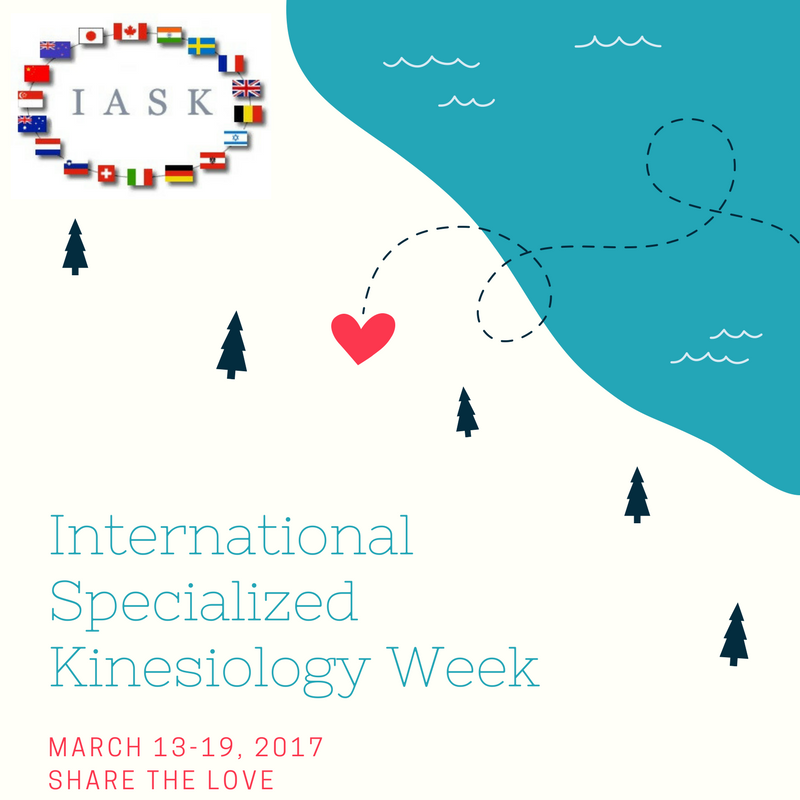 Every year it becomes a little less weird.
Specialized Kinesiology is becoming more mainstream, but we still have a long way to go to increase public awareness. At the 2nd Meeting of Associations in Portugal, 2015 (hosted by IASK, the International Association of Specialized Kinesiologists), we decided to declare a week for just this. Seven days when, as kinesiologists all over the world, we will all make an effort to bring muscle testing out to the public and educate as many people as possible.
International SK Week is March 13-19. I encourage all my peers to find a way to talk about their work with as many people as possible.
Some ideas:
Organize a demo at your local health food store. I did this at Nature's Fare Kelowna (Canada) for the first SK Day when they graciously allowed me to take over part of their store. Two of us did basic 14 muscle fix-as-you-go Touch for Health balances for four hours, balancing over 30 people! Two more of us ran a table organizing participants and handing out info about the upcoming classes. It was a great event and I would highly recommend it!
Have a get together for your association or host a speaker. The Russian kinesiology association did this in 2015, holding mastery classes and presentations in a variety of cities across the country with information on the website so people could join in with the event nearest to them.
Host a practice day or Open House. Members of KF in Suffolk, UK did this last year, exchanging balances, speaking to curious people who wandered in and having fun together.
This year, as I will be alone in my village in the rainforest far away from my friends and clients, I am going to celebrate by hosting a Facebook Live event. I have never done this before, so we will figure out something new together! I have spent a lot of time over the past couple years helping students become successful practitioners and helping practitioners up their game. Join the video, type in any questions you have about Specialized Kinesiology: getting started, marketing effectively, client retention, the magazine, whatever, and I will do my best to answer.
Saturday, March 18, 3-4:00 Central, 1-2:00 PST.
See you then!
Be Amazing!
Alexis