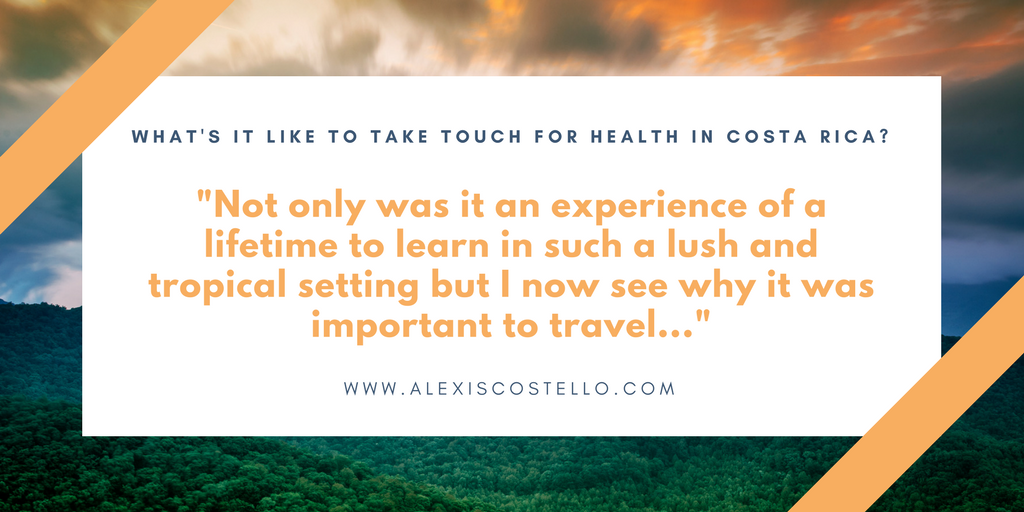 Touch for Health Testimonial
What's it like to take a Touch for Health Intensive in Costa Rica? After teaching my first one here in August I wrote this blog post called The Power of One (which you can read here) about the experience from my perspective and what I learned in the process. Today I received an email from a student with her thoughts about the experience, which I am so touched to receive and honored to share with you:
"I was so fortunate to experience a Touch for Health Intensive (levels 1-4) in Costa Rica with Alexis Costello. I had the option to take the courses in my home town, however, I am so pleased that I made the decision to travel for it.
Not only was it an experience of a lifetime to learn in such a lush and tropical setting but I now see why it was important to travel so I could be taught by Alexis. She is professional and exceptionally skilled and versed in teaching these levels. She was sure to get clarity on my preferred learning style and met my needs so perfectly. She's literally one of the best instructors I've ever had. I left the course with a lot of respect for her. I appreciated her enthusiasm, knowledge, and ability to hold space. She has a system down that allows for rapid intake of information with a balance in time spent on theory, practice, discussion, and breaks. The course was extremely interesting and the techniques proved themselves over and over again. It doesn't matter being new and perhaps a little slow as moving through the work… the results are the same. I loved being balanced every day, multiple times. Bravo! Very impressed.
The Costa Rican setting was stunning and I felt that learning in nature truly aided in the process. Not only that but having direct access to the ocean and the gorgeous terrain at the end of each day was the perfect way to integrate the material. The food was great too!
I traveled solo for the first time and felt very safe in Costa Rica and will do it again in the future. I enjoyed exploring at my own pace and appreciated having the option to take it easy after learning so much.
Great for the nature lover with a thirst for knowledge."
-Calista Povelofskie
I hope that, if you are considering taking a Touch for Health class, with me or with any other instructor in the world, this helps you take the plunge. To learn more about what is covered in a
Touch for Health Intensive, click here
.
Be Amazing!
Alexis