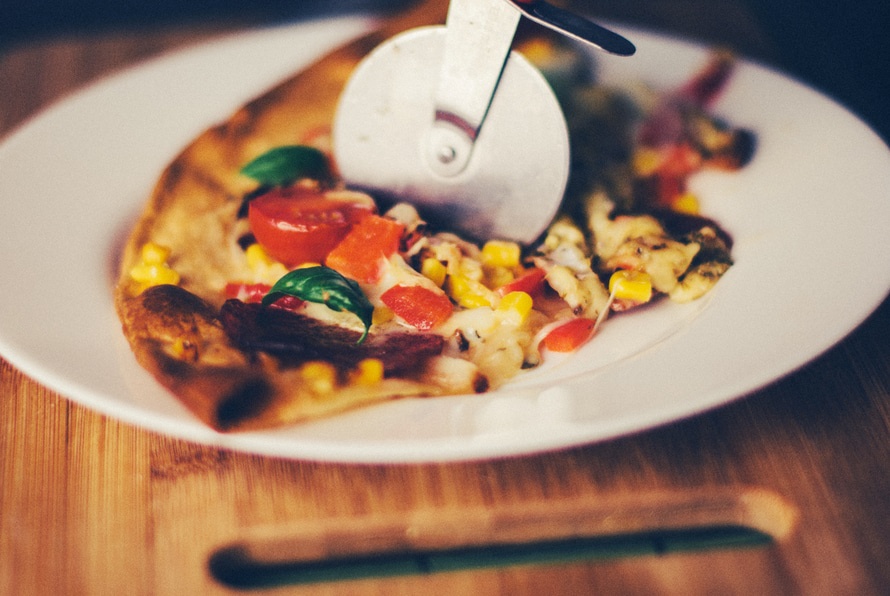 Warning: This recipe is not going to be perfect pizza dough. You could never toss it up into the air while singing Italian folk songs. It is, however, fairly tasty and doesn't fall apart instantly once it's cooked, which is a step ahead of many gluten-free crust recipes.
4 cups brown rice flour
2 cups corn flour
½ cup arrowroot starch
3 tbsp cane sugar
1 tbsp dry yeast
1 tsp salt
3 cups warm water
1 egg
2 tbsp olive oil
We live in the middle of nowhere and gluten free flour blends are hard to come by (and really expensive). I throw 4 cups of brown rice in my Vitamix and run it on the smoothie setting twice while using the tamper to keep it moving until I have reasonably fine flour. Mix this with the corn flour, arrowroot starch and other dry ingredients in a large bowl. Add the wet ingredients and stir for a minute to help activate the yeast. Then cover and let rest for 10 minutes or so.
Divide the dough in half and press onto 2 large pizza pans, spreading with your fingers. There should be enough dough here to create a nice little crust around the outside too. (If you have extra dough, I like to make bread sticks.) Now let it rise a little (remember, gluten-free dough doesn't rise the same way yummy glutinous wheat does!), about 25 minutes.
Bake the crusts in a 350 degree oven for 10-12 minutes or until the dough is springy to the touch. Note: my oven here in Costa Rica is a small propane monstrosity that doesn't have temperatures on the dial, simply numbers 1-5, with 5 being very hot and 1 being only slightly less hot. I have no idea how/if these number correlate to actual temperatures. I am guessing on this, so, you know, check your dough often.
While these are baking, prep all your delicious toppings, then dress your pizzas and bake for another 10 minutes or so.
Back when I could order gluten-free pizza from almost anywhere, or buy it at Costco, I rarely bothered with something so labor intensive. Here at the edge of the world, it is a delicacy that earns me Awesome Mom Points for a day or two.
Let me know how it works for you.
Be Amazing!
Alexis