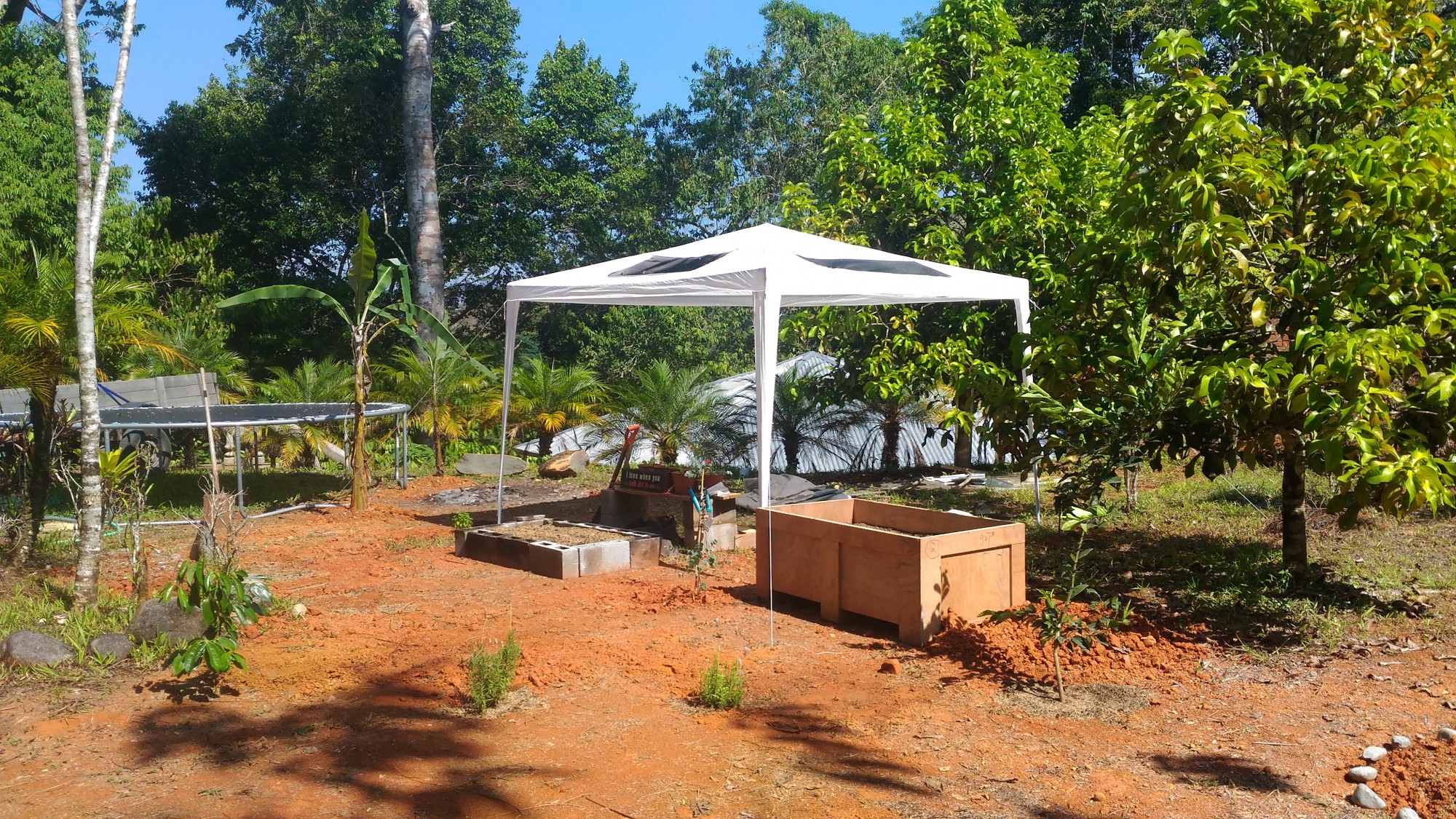 My clueless attempts at permaculture.
OK, so some of you may have been reading about our renovation process and how we are going about rehabilitating the cabinas we have purchased in the jungle. Part of this whole process however is the idea that we are going to live as self-sufficiently as possible and that means growing as much of our own food as we can.
Our property is only about one acre: some of that is primary rain forest, some hillside, a large amount of driveway and some inhospitable cliff. We are trying to purchase a nearby property that would give us some actual farming space, but, like oh-so-many things in Costa Rica, it is not as easy as it seems. I decided that I wanted to get a jump on it, so we are trying to do what we can with the property here and then worry about the proper farm in the future.
Our soil is packed red clay. Really pretty to look at, but a pain to dig up. We have taken some of the area around the house which was set up to have a few pretty jasmine shrubs and created some beds by digging down and breaking up the earth, then mixing in compost-soil, ashes and granite chips (to help alkalize our super-acidic dirt). I must admit that I look pretty buff breaking up the ground with a pick-axe! Believe me, there are pictures. It seems our entire property sits atop a giant hill of fire ants whose stinging bites make you want to scratch your legs off and the evil little #&*$%s know me now and send out an alert the second I step foot into the garden space. It's going to be a long and bitter battle, I can tell.
We have planted a few tomatoes, peppers and celery from starter plants and a patch of green onion and chive seeds in this area by the cabina. Interspersed with these are herbs like basil and stevia and some herbs that should help discourage insects: oregano, rosemary and marigolds. I've dropped in a couple aloe plants for making juice and have a passionflower vine climbing around on of the old cement rails just for the sake of beauty. Half a dozen lettuce plants are now growing in pots on a makeshift table on the edge of the yard as getting them off the ground takes out a lot of the insect problem. We have cucumbers and lettuce seeds germinating in a pan on the same table, which hopefully can replace the lettuce in the pots once those have grown and been consumed. Add to this a bed with some onions, mustard and cute starter plants that I bought at the market but am a little unclear what they will actually produce, mostly because the gentleman I bought them from just said yes and agreed with me whenever I asked him a question.
These are covered by a makeshift greenhouse that I McGyvered out of an old plastic event tent and some insect netting. See, the point of a greenhouse here isn't to keep the heat in, but to provide shade in the dry season and break up the huge torrential rains in the wet season, so I have set up the event tent and cut out panels which I have sewn the netting into in a couple places. If this sounds tedious, that's because it really, really is. We have brought in literally 1000lbs of dirt, which I have completely distributed already into some raised beds, improving the soil around trees, starting seeds in old egg cartons and filling a giant potato bin. Near to this I have planted radish and carrot seeds and a patch of turmeric, as well as some eucalyptus, lavender and herba buena (like spearmint).
If you're still with me at this point, either you are really into gardening or you're a sucker for punishment, so I will (finally) write about the aspect that most people are actually asking about – the tropical fruit. Pineapples are relatively easy to grow from stems (though they take awhile to fruit and require patience), and actually like this weird clay dirt, so we have been planting the tops as we enjoy the fruit and hopefully will have a decent crop in a couple years. We have planted two mandrinos, an avocado and two mango trees from starters bought at a nursery, and have two manzana de aqua trees that the previous owner planted that hopefully will fruit this year. Banana trees grow from suckers that spread from the base of a mature tree, and our neighbor brought us three when I asked him, along with cuttings of yucca and sugar cane, so we have all of those going in what used to be the driveway. I have been collecting and drying seeds from papayas and will plant a stand of them at the base of the driveway at the end of the month when it starts getting a little wetter around here.
We will see how it goes. Either I am going to be thrilled in a few months, or will be beating my head against this table. Stay tuned.
Be Amazing!
Alexis